<LINK REL="SHORTCUT ICON" HREF="http://www.sylviahalpern.com/public_html/favicon.ico">
Wow - this was the first night in a long time that I slept well. No honking, yelling, smell of cigarette smoke, hearing people hack up a lung coughing, karaoke, fireworks or roosters. The bed was super comfortable too unlike most that are hard as a rock. Unfortunately, as with all other hotels I've stayed in China there wasn't any wifi. It feels really weird to be in a hotel without wifi - especially such an upscale one. The hotel provided breakfast which was a huge spread of various asian dishes. I had some rice porridge and coffee heading out to check out the town. I found a business supply store and they set me up at a table to use the wifi. They even gave me tea. I had quite a few pictures to upload and they didn't mind me sitting until I was done. My big chore for the day was to see about getting a bus ticket to Kunming. It hasn't been an easy decision but I've decided that I'm done cycling in China. It is simply too difficult for me to tour in China alone. Between being refused service in roadside restaurants and having to hunt for foriegner approved hotels it is all too much. I don't expect everyday to be great but in China, I'm crying everyday. It just isn't fun. I've always said if what I'm doing isn't fun I should do something else. And I've decided it is time to do something else. While I was using the wifi at the business store I found a reasonably priced flight out of Kunming to Los Angeles for March 13th. I thought about heading back to Thailand but after visiting my friends in Chiang Mai for a few days I didn't know where else to go. This time of year is brutally hot in Thailand especially in the south. I know because I tried to ride in it 3 years ago and couldn't. So, as disappointing as it is, I decided this trip is done.
So now, I needed to find the bus station to get a ticket to Kunming. It was only a couple of miles from the hotel. I took Myrtle to make sure the trike wouldn't be an issue. I easily got a ticket for the next morning and no one cared about the trike. The rest of the day I spent walking around but didn't really see anything exceptional in Pu'er. I suspect the real allure of this town are the tea plantations that I rode through the last few days.
In the morning, after another wonderful nights rest, I got packed up early for the ride to the bus station. Luckily, I got there early because the bus I wanted leaves from another station. Why they didn't tell me yesterday when I bought the ticket I needed to go to another station I'll never know. I was in a huge panic and the bus station people were really great. One woman spoke some English which was super helpful. First, they tried to get Myrtle in the luggage area of a small bus that was going to the other station but the space was too small. Then 3 people helped me get everything out to the street and flagged down a truck. I paid him $10 to get me to the other station and, incredibly, we made it on time. The truck driver helped me get Myrtle and all my gear through the station. This was truly amazing and surprising because things in China usually move slowly. I could hardly believe it when the bus pulled away and I was on it. The ride to Kunming took about 6 hours and it was through very mountainous terrain. We stopped every 1 1/2 hours to use the bathroom and smoke. Luckily, this was a smoke free bus.
When we arrived in Kunming I looked at Google maps and saw I was about 14 miles from the area of town I wanted to be in. It was early enough that I could have ridden but Kunming is a big city and I'm so glad I didn't. A woman helped me load up the trike and gear on a cart taking me out to where the taxi's are. There were also mini vans and I showed the guys on the map where I wanted to go. It cost me $12 for the ride to a hostel. The driver didn't take me to the hostel I asked him to but I got out and checked the scene. Many cyclists stay at this hostel, the Cloudland, but I wanted to be closer to a bike shop that many cyclists also recommend to get my rear wheel trued up. The guy wanted more money to go to the other hostel so I unloaded my gear knowing it wasn't far. Unfortunately, the Cloudland only had an upper bunk in a 10 person co-ed dorm room. I'm just too old for an upper bunk and decided to ride to the other hostel loading up Myrtle. This is when I discovered that I left my backpack on the floor in the front seat of the minivan and it was gone. Oh boy! There was a significant amount of US money and my camera in the pack. I had uploaded all the pictures but still, this was a bummer! A couple of guys saw my predicament and had a possible solution. None of us had any idea who the driver was or how to contact him but the guys had asked him to return in an hour. I gave them my email address in the very small chance that the driver would return and the pack was still there.
I pedaled off to find the Upland hostel where I had reserved a private room. It wasn't hard to find and I really like the area. The hostel is near Green Lake and had a nice feel. This hostel is kind of cramped and after looking around I wasn't sure where they would keep Myrtle. I got checked in and decided to find the bike shop. The hostel called to make sure they were open. The shop was only a few blocks away and I left Myrtle overnight since it was already late in the day. Using Google translate I asked them to true up the rear wheel and they could see it was wobbling. I walked back to the hostel and the first thing the front desk gals asked was whether I got a receipt. Uummm no - so I walked back to the bike shop and they were happy to write one up. Walking back to the hostel for the second time, I checked my email and the guys at the Cloudland found my backpack. Unbelieveable! Wow - I was stunned. I replied that I would get a taxi right away. I freakin' lost my backpack in a taxi in Kunming, China and got it back?!? What a story! Unfortunately, the guys weren't around but the backpack was waiting with reception. Everything was still in the pack just as I had left it. One guy returned for a moment and I was able to get a picture. I told Jean-Pierre, pictured above, he was my hero of the day!
By the time I returned to my hostel I was exhausted. This had been one very full day.
Drought notice for Kunming. I never had an issue with the water.
Exercise in Green Lake park.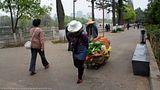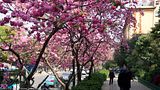 On Western street Kunming.
Getting veggies to market.