<LINK REL="SHORTCUT ICON" HREF="http://www.sylviahalpern.com/public_html/favicon.ico">
Today I am travelling alone in Asia. It felt strange after spending so much time with Kathryn to be on my own. I took an extra day in Koh Lanta to re-access and get used to this sudden change. There was an intensity to traveling so closely with someone that took awhile to shake off. It felt good to have my own space and quietly make decisions. I was ready for this change.
Where should I go next? I have already been to Phi Phi and Phuket islands. They were both worth seeing but, in my opinion, not worth seeing twice. The other direction was Krabi. I was also there 3 years ago and loved it. After consulting Googlemaps I saw that I could take a car ferry across to an small island from Koh Lanta and then another car ferry to the mainland. It would take a few days to get to Krabi and looked like a nice ride. With that information I got packed early Thursday morning. I stopped at a lovely cafe right on the beach for breakfast on my way out of town. It isn't far to the car ferry but I missed the turn and was at the passenger ferry before I realized my mistake. It was 8:15 am and a boat to Krabi was leaving at 8:30. Hhhmmm....this was just too convenient and I immediately changed plans getting on board. The weather was beautiful and the boat ride was absolutely gorgeous. The ferry made a couple of stops for people getting on and off long-tail boats connecting to various islands on the way. It was super cool having so many long-tails pull up together along side the ferry. 2 hours later I was in Krabi.
As I rode the 5 miles into Krabi town I got flagged down by a tv crew looking for an interview. I never did find out what channel or kind of program they worked for. Their equipment was professional but their English was surprisingly limited considering they stopped me. I answered questions and added information that people are always asking me. The whole interview took place on the street with lots of cars honking as they passed. Funny experience. Then I set out to find accommodation. There were lots of options but there was something about a particular guesthouse that caught my eye and pulled me in. I can't even say what it was but the pull was strong. Good thing too because I got the last room. $11 and I was checked in at the Chanchalay Guesthouse. It is charming and run by a few sweet Thai woman. Even though I only rode about 10 miles today I was emotionally exhausted and knew I would need a couple of days here.
I loved walking around a city I had been to before. The last time I was here I had wonderful tour guides in my friends Yogurt and Sandra. I also enjoyed reliving the memories of my last visit. My friends have since moved to Chiang Mai and I will see them in a few weeks.
There were a number of things I wanted to take care of in Krabi. A pedicure and massage were obvious. I also wanted to send home some camera lenses I haven't been using. One lens, 55-200mm, is big, heavy and bulky. I'm always worried that it will get damaged if I drop the bag its in. Since I'm not using it I decided to mail the lens home. The post office was practically across the street from the guesthouse which made it all easy. They had a packing service and I included a second, small pancake lens with some clothes too. $18 and 3 lbs of stuff was sent home by Sea Mail. It probably won't arrive for a couple of months.
After 2 nights I felt recovered enough to start cycling again. It was a beautiful morning and I was eager to get back on the road. Krabi is easy to navigate and soon I was cycling in lovely conditions. The shoulder was wide, the pavement was smooth and the scenery was gorgeous. A cyclists dream day.
There were also plenty of places to stop for food and drink. One place was hilarious. It was a restaurant called Cabbages and Condoms. The sign was written in Thai and English. I figured condoms meant something else in Thai. But no, there were cartoon drawings of penises being covered with condoms publicly displayed in the restaurant. They also gave out free condoms with the bill like you would usually get mints. This was such a funny idea that the restaurant must be famous and I'll have look up what the owners have in mind. I was the only customer and the food was really good.
My next stop was at a gas station that had an espresso shop. A big group of Thai motorbikers were there that had passed me earlier. They got such a kick out of seeing me again that they all posed with Myrtle for pictures. A lot of them spoke English and they were super fun. I left the station before them and got lots of honks and thumbs up when they passed me later on.
I was on Highway 4 thoroughly enjoying the intriguing landscape with lush green karsts on both sides of the road. Giant rock formations jutting out randomly in fascinating shapes. There were a couple of good hills but mostly shallow rollers. I had picked a hotel using Googlemaps that was at about the 25 mile point. It would have been much too far to the next hotel that wasn't a fancy resort. The PN Mountain Resort had a website so I knew what kind of pricing to expect. There were a few other options that I passed today that weren't on Googlemaps. When I got to the town of Ao Luek I checked out the local hotel where I could have had an a/c room for $11. I decided to check out the resort and if it didn't appeal or was too expensive I could return. The resort was only a few blocks away but it was difficult to find. I really don't know how anyone would know where to look for it. There were no signs and the street I turned on to get there was very poor with families living in tin covered shacks. I was sure this was the wrong road and I had to go to the very end of the street before I saw the resort entrance.
The PN Mountain resort is lovely. It is built into a karst that has a big hole half way up. The grounds are nice and the accommodation is top notch. Boy was I surprised to be quoted $18 a night which was much cheaper than listed on the website. Yahoo! This will be the first room in a long time that has a separate shower with hot water and a western toilet that flushes. There was also a top sheet on the bed with a softer mattress which means I won't be needing to use my air mattress. What a find and a nice cap to a truly fabulous day.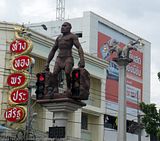 Thai motorbike club that were super fun.
Fantastic scenery all day into Ao Luek.
Restaurant that gave out free condoms with the bill.
Another wonderful traffic light in Krabi.