<LINK REL="SHORTCUT ICON" HREF="http://www.sylviahalpern.com/public_html/favicon.ico">
Island life. The Sandy Beach Resort was an ok place but it was kind of industrial and we were looking forward to moving. Unfortunately, Kathryn ate a salad that did her in. She was sick, sick, sick. I felt really bad for her and it is super hard to share a room with a sick person. For 2 nights I didn't sleep either. Oy vey! After 2 nights Kathryn wanted to move and we found sweet little Rumours guesthouse. The owner, Awie, is very nice and laidback. I think we paid around $15 for a fan room. Kathryn still wasn't feeling well and decided she was suffering from another bout of giardia. This is a parasitic illness that requires antibiotics. She came down with this last summer hiking and had some antibiotics with her. Some times she would feel better and sometimes it came back full force. There was no way to predict when she would get better. We decided to take a ferry to Koh Lipe - our first stop in Thailand.
After another rough night, we rode the trikes a short distance to the ferry terminal where a guy picked us up for a drive to an immigration office. There were 3 of us on this ferry and getting our passports stamped. Kathryn took her dramamine and slept in the cabin. I was up top with my feet dangling over the edge enjoying the view. It was about a 3 hour ride and the speed boat dropped us off on the beach. It was crazy watching the guys take the trikes off the boat like they were nothing. They carried them up over their heads while walking over the motors. Once our stuff and been dropped we had to get another immigration stamp. Kathryn was really suffering from her stomach ailment and the effects of the dramamine. We had no idea where to stay and we also didn't have any Thai baht. There are no banks or ATM's on Koh Lipe and so we had to take US dollars to a money changer. We didn't get a very good rate but atleast we had baht.
Thailand was celebrating the king's 85th birthday and the island was very busy. There are no cars on the island and we started riding on sand covered pathways. The first few guesthouses and bungalows were either full, gross or too expensive. We kept going and, of course, managed to find a path where the sand was too deep. Kathryn really wasn't feeling well and I was cursing while we pushed the trikes. We persevered and were rewarded with a beautiful bungalow right on Sunset Beach. Unfortunately, there was only one left and we had to share a king size bed. It seemed like that should be enough room. After getting checked in, I went for a swim in the lovely cove. The water was perfect. Turquoise in color and crystal clear. This really was paradise.
Unfortunately, Kathryn wasn't having such a good time. Her stomach continued to give her problems all day and all night. Sharing a room with a sick person is one thing but sharing a bed is quite another. Nothing like being sick in paradise. The second night she tried sleeping outside on the veranda but still didn't have much luck. I took a pill and slept great.
In the morning, Kathryn decided we should move on to a bigger place in case she needed medical care. Koh Lanta is a big island with a hospital. We had met a nice couple, Misha and Kenny, who were also staying in the bungalows. They were very helpful in getting the trikes and all our gear into the long tail boat that would take us out to the ferry. Somehow we ended up getting a child's rate for the ferry and our tickets were quite cheap. The boat ride was 5 hours and very beautiful. Again, Kathryn was in the cabin sleeping and I was up top enjoying every minute.
Kenny and Misha had been to Koh Lanta before and suggested a terrific place. The Leaf House bungalows are only $13 a night and steps from the beach. We immediately booked in for 2 nights. Since they were so cheap, Kathryn and I got our own bungalows. This would be the first time we had separate accommodations in 6 weeks. Woohoo!
The next day, Kathryn still wasn't feeling well and started talking about abandoning the tour. She has some friends in Wellington, New Zealand that have offered her a place to stay and recuperate. Seems that Asia has gotten the best of Kathryn especially her stomach. Giardia is a tough bug to get over and she decided enough was enough and booked a flight out of Phuket. This was all very sudden but I can't say I was surprised. Between the heat, humidity, language issues and many small illnesses Kathryn was done. Cooked. I rode with her to the ferry terminal and saw her off tearfully. So long Kathryn. I sure hope you recover and New Zealand shows you a good time.
It was fun having a touring companion and I'll miss Kathryn. Now, unexpectedly, I am on my own.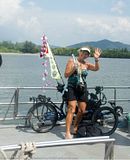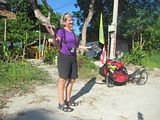 Boarding the long tail for Koh Lanta.
Clear water and white sand beaches - Koh Lipe.
Finding our way through the sand.
Myrtle arriving on Koh Lipe.