<LINK REL="SHORTCUT ICON" HREF="http://www.sylviahalpern.com/public_html/favicon.ico">
The week in Khao Lak went by very quickly. I met many wonderful people just like I did the last time I stayed at the Pakarang Villas. This is the kind of place people tend to come back to, sometimes year after year. It seems to be very popular with Swedes and Germans. I met one Swedish couple who have known the owner, Tang, for 20 years. I struck up a friendship with a German couple, Franz and Ursula, who have spent many winters here. We had dinner together almost every night and it was so nice having their company. They have travelled all over the world and had terrific stories.
This is also the kind of place that teaches you how to relax. Everyday I found myself doing less and less, enjoying the beach and the pool more and more thinking of little else. It seemed that if I stayed much longer I might just melt into one of the lounge chairs around the pool. After a week I felt rested enough to carry on.
I plotted my course and knew the first day's ride was going to be very hilly into the Khao Sok national forest. Just as I got packed up and started pedaling away Tang, the owner, called me back. She was heading to Takua Pa to do some shopping and offered me a ride. This would give me an 11 mile head start into what was going to be a challenging 40 mile ride. The road from Khao Lak to Takua Pa is flat. As she dropped me off, I managed to get a picture with Tang (in blue) and her family. She is a very sweet woman and I hope to visit Pakarang Villas again.
The next 20 miles were the most demanding of the trip so far. Many of the hills had sustained climbs with 10% grade. It was slow going. At the top I met a couple of Dutch cyclists going the other way who were also relieved to be done climbing. The ride was very beautiful through a jungle forest. I passed a couple of farms were people can go trekking by elephant. The elephants are amazing animals and I know it is hard for them to survive where so many people live. Perhaps giving people a livelihood by offering elephant treks also helps the elephants but I didn't like seeing them chained up. They are such majestic animals and I wished they could roam free.
Over the past few weeks I've noticed that my GPS has been running low on battery by the end of the rides. Unfortunately, today the battery couldn't hold the charge as long as the ride and turned off. I've had this Garmin Edge 705 for about 4 years and probably charged it close to 1,000 times. Luckily, I'll be taking the train to Bangkok tomorrow where I'll be able to replace it. If this had happened after Bangkok that would have been much worse.
The last 5 miles was a glorious downhill with fantastic views. I had been through this area 3 years ago and planned on stopping at one of the resorts at an entrance to the Khao Sok national forest. There are many options for places to stay. Some of the resorts offer bungalows high up in the trees. Some of them are quite expensive. I didn't stay in the trees as I have a fear of heights and also didn't trust that Myrtle would be safe. I found the Misty Mountain resort getting checked into a comfortable room for $18 and then went looking for wifi. Khao Sok village didn't have any wifi, anywhere, so I went for a massage. This village is one of those greedy little places that treats tourists poorly. I understand wanting to make money but making fun of the customers just doesn't sit well. My massage lady yelled to her buddies outside while working on me. They would all laugh knowing I couldn't understand. Blahh! Some of the pictures of the giant lake in the forest are incredible but I wasn't going to be here long enough to explore it. Being in the forest, the resort is surrounded by nature. The pool had an amazing view of the surrounding karsts but it was a little too much nature for me. The insect and animal noises were very loud all night long and I had the feeling there were ants in my bed. Maybe there were one or two ants but my imagination kept me thinking a lot more were on the way.
I was happy to pedal off in the morning. There were a couple of options for today's ride. I found a resort using Google that was about 25 miles down the road or I could go 70 miles into Phunphin where there is a train station. I had already decided to take the night train to Bangkok from there. Phunphin is a small, grimy town very close to Suri Thani and doesn't have a lot to offer. The more I thought about it the more I liked the idea of riding all the way into Phunphin. I know there are many trains running into Bangkok starting from 5 pm. Even though it is 70 miles, I could make it before dark and then sleep on the train. It was a good thing that I was up for riding so many miles because I never saw the resort Google listed. This was a very hilly and beautiful ride through the Phanom national forest. The first few hills were stiff climbs and then every climb became easier as I made my way down to the coast and the terrain leveled off. My GPS battery gave up after 22 miles. For the last 2 days I have been riding from the Andaman coast almost to the Gulf of Thailand. Phunphin is about 5 miles shy of the sea.
It took me longer than I expected and I arrived at the train station just after 6 pm as the sun was setting. My timing was fantastic. There was an express train with a sleeper berth leaving at 7 pm. I bought a ticket for $25 and then went to the baggage area to discuss with the station master what the cost for Myrtle would be. At first he said 'no bicycle'. I showed him how the bags and flag could be removed and then he said 'yes bicycle' charging me $4. By the time we finished negotiating there was only a few minutes until the train arrived. We rushed to put everything in a cart and pushed it all to the platform as the train pulled in. I threw my bags on board and watched the guys take Myrtle to the baggage car from the steps of the train. The train started moving so soon that they didn't have time to get Myrtle on board. Oh boy! They yelled out that 'bicycle would go on later train.' How much later? 'Not sure, maybe 3 or 4 hours.' Wow - this was truly a nightmare and there was nothing I could do. I couldn't get off the train and I just had to trust the baggage guys.
I was so worried about Myrtle I took an Ambien to get some sleep. This was the first time I had a sleeper car on a train and that was fun. The bed was surprisingly comfortable and I really liked being able to lay down and relax. The train pulled into Bangkok station at 7 am and then, I waited. At about 10 I asked the station security if there was a way to know if the trike was even on a train. He took my receipt and started making calls. Then he walked away - with my receipt and was gone so long I started thinking he wasn't coming back. He had the only proof that I paid to transport the trike. I'm sure he had working duties to take care of and eventually returned telling me that Myrtle was on the train due in about 40 minutes. Pphheww! Sure enough, he came over when the train pulled in and helped the baggage guys get her unloaded. I don't think I've ever been so excited to see my trike and gave everyone a big tip. It was Christmas after all.
Khao Lak to Khao Sok to Phunphin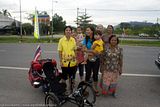 Khao Sok hotel in the jungle.
Mushrooms growing in elephant poo.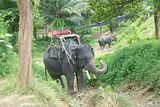 Myrtle arrives in Bangkok.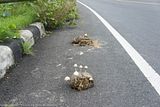 Tang and family in Takua Pa.
Ursula and Franz trying out Myrtle.