<LINK REL="SHORTCUT ICON" HREF="http://www.sylviahalpern.com/public_html/favicon.ico">
The PN Mountain Resort was very comfortable and so cheap I wanted to find a reason to stay longer. The $18 price even included breakfast. Only one other room in the resort was occupied by Dutch people on business who were busy working. I could have spent a day relaxing by the pool but after a good night's rest I got packed up.
Today I turned off Highway 4 onto Route 415 which was another very nice road with terrific scenery. This ride was going to be a lot of miles, for me, and I kept my head down and focused. I didn't stop as often and kept the stops shorter. I pulled over for a lunch of noodles at a road side stall and then coffee at a Starbuck's imitator outside the large city of Phang-nga. The coffee house was at a truck stop alongside what looked like a lake but was actually a shrimp farm. Of course, there were various stops for pictures and to let my feet relax.
The road consisted of lots of shallow rollers for the first 45 miles and then I was back at the coast and Highway 4 - earlier than expected. For most of the ride I was averaging 10 mph which is unusually fast for me. 3 years ago I had stayed at a local hotel in the small town of Khok Kloi that was very cheap. The people who ran it were nice but the accommodation was bleak and not especially clean. By the time I got to town I didn't have the energy to try and find it. I wanted something nicer too and, after 49 miles, pulled into the Erawan Hotel right on the highway. I got checked into a room for $40 which is a lot in Thailand. They charge western prices but no-one spoke English which makes it difficult to cater to western tourists. The room was spacious, clean and comfortable. The wifi was strong and there was plenty of room to do my yoga. The hotel was practically empty but, of course, they put a Thai family of 6 in the room next door. At midnight I had to knock on the door to ask them to turn down the tv. One person spoke a little English and I was grateful for an easy encounter.
After a night of limited sleep, I got packed up and went for the included breakfast. It seems that Asians always think Americans want fried-rice. Everything else on the menu was heavy on meat so fried rice was the best option anyway. For me, fried rice is something I eat at home to use up the left-overs in the fridge. I rarely order it in a restaurant but, luckily, I really like rice so it was ok.
Today's ride to Khao Lak was back along the coast. I didn't have a huge ride planned and took my time. Ten miles down the road I stopped at a small restaurant in Thai Mueang for coffee and a snack. This is a good sized, fairly grimy town with a heavy Chinese influence. The woman shop-owner made me an excellent cup of coffee and I had a couple of sticky rices wrapped in banana leaves that were stuffed with coconut and raisins. Delicious. She gave me one small dumpling to try and also cut open some rambutan. Very sweet. When it came time to pay I gave her 20 baht and she took it. She didn't need anymore money and didn't offer any change. I don't know why this made me suspicious. And then my mind did a really weird thing -I calculated the exchange rate as 3 Baht to the USD. At this rate my coffee and small sticky rice things came to 6 dollars. An outrageous amount of money especially for this type of shop. Unfortunately, my mind didn't stop to take in the possibility that I had made a mistake and, instead, decided the woman was ripping me off. Luckily, I didn't push it too hard but did make a pantomiming motion that she should give me some money back. She shook her head and hands saying everything was fine. I'm thinking 'Yeah, it's fine - you are making a lot of money here'. I got back on the trike all pouty and frowning at the woman. It wasn't until a mile down the road that I realized the actual exchange rate for Thailand is 30 Baht to the USD and I just paid 65 cents to a woman who was super sweet to me. Oy Vey! I wanted to turn around and apologize but she didn't speak any English and I didn't know how I would navigate that conversation. It's been a couple of days and I'm still embarrassed.
Another 10 miles and I stopped at a cute little roadside restaurant. I had to walk across a small bridge to enter. The woman owner didn't speak any English and the menu was totally in Thai. The menu had one picture and I couldn't really tell what the dish was. I pointed to the picture to order. I had a wonderful spicy mango salad for lunch. The salad was spicy enough that I had tears streaming down my face but I still really enjoyed it.
After lunch I was in for a special treat. 3 elephants crossed the highway and walked passed me on the other side of the road. I think they were working elephants giving tourists rides on the beach. I watched them turn down a dirt path for quite awhile. My first elephant sighting on this trip.
Then the road went up and up over a mountain. There were cicada type insects buzzing very loudly in the forest accompanying me on the ride - video. The riding was turtle pace but very beautiful and I was rewarded with a fabulous view of the Khao Lak coastline from the top.
It was a quick ride down to Khao Lak village and still another 13 miles to the place I wanted to stay. I was here 3 years ago and it was fun going to a hotel I had stayed at before. Everything was the same. The owner gave me a big hug and showed me to my bungalow. I have been really looking forward to this visit and will probably stay a week. The place is very quiet with a pool and I can walk to the beach. It feels wonderful to be back here.
Ao Luek to Khok Kloi to Khao Lak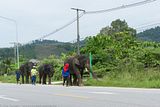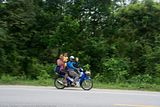 Sticky rice in banana leaf stuffed with cocout and raisins.
Mango salad lunch. This picture is much clearer than the one in the totally Thai menu.
Rewarding view after a big climb.
Typical encounter. Many bikes have 4-6 passengers.
View from my room at PN Mountain Resort