<LINK REL="SHORTCUT ICON" HREF="http://www.sylviahalpern.com/public_html/favicon.ico">
I am feeling so fortunate to have found this wonderful Mekong River Youth Hostel. The woman running the place speaks very good English and it is full of travelers. I have friended an older Danish couple, Jorne and Lilian, which has been very nice. We have been spending the evenings together sharing a meal or a beer on the balcony. I also met a delightful young Chinese college student at the famous western Mei Mei cafe in the next block. We spent an afternoon at Menting Park where he showed me about the Buddhist practice of lighting incense and getting a blessing from the monk. I couldn't believe this young man would want to spend time with a middle-aged woman but I really enjoyed the afternoon. I wish LiLi the best of luck in his continuing studies.
2 days ago a young English touring cyclist rolled up in front of the hostel. Neil had ridden from England and plans to be on the road through 2015. He was a really nice guy and easy to talk to. After 2 months in China he was ready for a new country and was looking forward to crossing the border with Laos. He had ridden a heck of a long way in 2 months and said it was a grind to cover the kms especially with all the mountains. I think he crossed the Kyrgystan border with China in December riding in the brutal cold of winter. He said he had met quite a few cyclists all headed south. Their timing is unfortunate having to do China at the height of winter and now to Thailand during the hottest time of the year. Such extremes. He only had 3 days left on his visa and really needed to hit road but I wished I could have talked to him more.
One thing I was really hoping to take care of while in Jinghong was getting a SIM card for my wifi router. I think it will help to have wifi on-demand where I can take advantage of Google translate. Local people really appreciate when tourists try to speak. I think I'll have more fun and a better reception in the small towns if I can communicate a bit more. There are a couple of western cafes in the next block. A local Chinese teacher likes to hang out at them and practice his English. I asked him and the French owner of the Mekong cafe if they thought I could find a SIM card. The Chinese man offered to take me and help with translation. His English isn't great but I figured why not. We ended up at a China Unicom cell phone store where we asked a technician about the card. He spent a long time on the computer looking things up and calling other people on the phone for help. I still don't know why it was so hard or what he did but he got the card to work. I have been to so many outlet stores for all the major China cell phone service carriers and no one has been able to get a card to work. I was super excited. That is until he told me the price. I told him I would like a data service plan for 3 months. The card cost me $200. I repeatedly asked my translator why it cost so much but I don't think he understood what the card does and couldn't explain. I paid because I really wanted it. I'm still not sure how many gigabytes of data it includes. What made me more suspicious that I was being overcharged was when I couldn't get a receipt. I did get the number for the card written on a scrap of paper so I can top it off. I only need it for web browsing and occasional picture uploading. It will be interesting to see how long it lasts and how hard it is to top off.
I've spent the past few days walking around this lovely city. Jinghong is a really nice town with fabulous weather and lots of parks. I put off making a decision about my trip until I felt more rested. After talking to friends on Skype and reading very much appreciated fb comments I've decided to continue to Dali and Kunming. It occurred to me that going back to Thailand from here won't really help me. Crossing the border by land would only give me 14 days in Thailand. After 14 days I would have to leave the country. Kunming is the closest city where I can get a standard tourist 2 month Thai visa. If I'm not enjoying China I can easily get a flight from there to Chiang Mai.
That said, it will probably take me at least a month to first get to Dali and have a good look around and then another week to ride to Kunming. The route is 700 miles through very mountainous terrain. It should also be a very beautiful ride and everyone loves Dali especially the old town. I've checked the map and there are plenty of places to stay along the way. There are also a number of journals from people who have done this ride to compare notes with. If it all gets to be too much I'm sure I can get a bus as well.
So, tomorrow I head out for a journey deeper into Yunnan province that feels like I will really be tested - in many ways. I think I'm as nervous about this trip as I was when I started my first tour.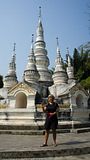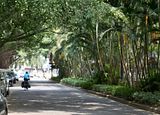 I didn't think to get a picture of Neil until he started riding off.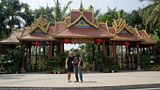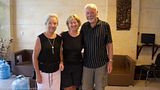 With LiLi outside Menting Park.
With Jorne and Lilian, my new Danish friends.