<LINK REL="SHORTCUT ICON" HREF="http://www.sylviahalpern.com/public_html/favicon.ico">
In the morning I went down to the lobby to use the wifi and make some Skype calls. I was talking to my aunt in LA when I looked up and saw 3 young touring cyclists across the street. I quickly ended the call and ran outside excitedly with my laptop to find out who they are and where they are going. These cyclists were the first western people I had seen since arriving in China. It was 2 guys and a girl from Germany who were, unfortunately, headed to Laos. They weren't nearly as excited as I was seeing another cyclist and didn't really have much to say. Their English was fluent and one guy also spoke Chinese. I offered information about the road ahead and they didn't give me anything about the road they took from Dali except to say it was 'Alright'. They did see an 'older' couple riding but didn't tell me where or which direction the couple was going. I tried asking a few more questions but their answers were so short I just gave them my card and went back to my hotel. This encounter was a little disappointing.
There are some famous botanical gardens close to Menglun that I probably should have stayed to see but I really wanted to get to Jinghong. I had it in my mind that I would arrive before the ferry could have taken me from Thailand. If I got to Jinghong today I would arrive 2 days before the ferry. Jinghong is known as a garden city and I'm under the impression that it will cater to tourists. Maybe even Western tourists.
I had breakfast of rice porridge ($.40) and picked up a couple orders of dumplings with some oranges for today's ride. Heading back out on the Xiaomo Highway, I spent the first few hours climbing a lengthy but not very steep hill. Close to the top was a long, dark tunnel. A large truck drove passed distracting me from the road and my right front wheel rolled into an exposed 2 foot deep drainage hole that was missing the top grate. It was disorienting and quite a shock to suddenly be stopped at a steep angle with the left wheel still on the road. This happened in the middle of the tunnel and I was terrified damaged had been done. I hopped off the trike pulling it out of the hole in the pitch black as the only light in the tunnel was from passing traffic. Everything seemed to be ok. I started riding again staying clear of the grates. Although the trike was rolling fine I could hear a new sound. Once back in the sunshine I stopped to figure out where the sound was coming from. One of the spokes holding my rear fender in place had come loose. I tried to fix it but couldn't figure how the spoke fit in the strange looking screw. It wasn't a show-stopper and decided someone in Jinghong could help me with this pushing on. I was breathing a huge sigh of relief that a loose fender spoke was the extent of the damage.
At the top was the welcoming sign for a long 6 km descent. I was so excited to be going down I missed the turn to Jinghong. There weren't any signs to turn there but I had actually stopped at the intersection wondering why cars were going that way. Mostly, I was staring at all the drivers who were making the turn from the wrong lane expecting to see an accident. Cars coming the other direction simply moved over as if it was the most obvious thing to do. There was no honking, shaking of fists or yelling. It never occurred to me that I might want to turn here as well and I continued down the hill. A couple of miles later I arrived at a toll booth and entrance to an expressway. The toll booth attendant refused to let me pass and I had to crawl back up the hill to the intersection with the crazy drivers. It was downhill all the way into Jinghong on a really beautiful winding road through lush jungle. I got struck behind a water truck for some of the descent and had to use my brakes more than I was hoping for.
Eventually, I made it to Jinghong and started looking for a hotel. I turned down a side street that was lined with cheap places to stay. They were a little too cheap and I kept going. It has been a week since I took a rest day and I was ready to splurge. I've noticed that hotels all post rates at the front desk that are wildly inflated. The hotel I ended at was very nice and it's lowest posted rate was $50 but I got checked in for $16. It had everything except wifi plus they gave me a room to store Myrtle. After getting settled I went out to find food thinking I would easily find a cafe with wifi. I followed signal after signal but no-one would give me their password. Eventually, I ended up at another hotel sitting in their lobby.
The next morning I needed to get money. This would be the first time using an ATM in China. I had read that foreigners can only get money from the Bank of China. Using Google translate, the front desk woman said I could go to other banks and she had a young man escort me across the street to the Agricultural Bank of China (ABC). I was so happy to have help because the ATM screen was in Chinese with no 'english' button. I got the money I needed and it was much easier than I expected. I tried to give the young man a tip but he wouldn't take it. Next, I wanted to get my fender fixed. By this time, 2 spokes holding the rear fender had come loose. The guys in the hotel were completely fascinated with the trike. I showed them the loose fender and they tackled the problem. It took them a good half hour but they fixed it. I was so happy and they were really proud.
Getting cash and fixing the fender were my big chores for the day. It was only 11 am and both were accomplished. Even though the people at this hotel were so sweet to me I really wanted to find a place that had wifi. Looking at the map it seemed the tourist section of town was on the other side of the Mekong River (Lancang in China). It wasn't far to cross and then I started looking for a hotel. I must have looked at 12 hotels. Only one had wifi and they couldn't store Myrtle. I did meet an Asian couple who spoke English that were also looking for a hotel. We complained to each other how expensive the hotels were and they weren't all that great. I was ready to spend a little extra but I really wanted wifi. There are a ton of hotels and I was determined. Turning a corner I almost ran into a young Swedish guy on an electric scooter. He was going against traffic in the bike lane. We were so excited to see another western person we almost got off our vehicles to give each other a hug. I asked him about a hotel and he knew of a place escorting me there. Fantastic! He took me to the Mekong River Youth Hostel where I got a private room with a balcony for $27. The wifi was strong in my room so I was very happy. This place feels like an oasis and I'll be staying for a few days to recover from the last week.
I'm finding riding in China, so far, to be quite difficult. The roads are in good shape and the riding has been beautiful but off the trike is tough. People are nice but aggressive and impatient when I ask for things. Mostly, it's not the biking but I'm frustrated at not being able to communicate which seems harder here than in SE Asia. Both yesterday and today I've been in tears and I'm wondering if cycling in China might be too much for me. It's also possible that I've ridden too many days in a row and am more exhausted than I thought. There have been a lot of hills to climb over the past week too. I'll rest up for a few days and see how I feel. At this point, Thailand is sounding pretty good to me.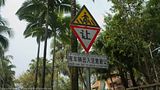 Bridge across Mekong (Lancang) River.
Most places don't advertise their drug parks.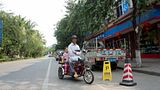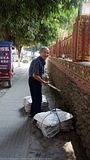 Jinghong streets often have separate lanes for scooters and bicycles.