<LINK REL="SHORTCUT ICON" HREF="http://www.sylviahalpern.com/public_html/favicon.ico">
We couldn't have picked a better day to hole up in a hotel. It rained and rained all day. The hotel was comfortable and I had a lot of blogging to do. I really enjoy updating my journal but when it is 4 days behind this becomes a huge job. It took hours but I got it all done. The wifi connection was slowish and uploading photos took a very long time. Since it was Thanksgiving I also wanted to make some Skype calls to family and friends. Skype can be challenging when the wifi is slow. None of the calls worked very well which was frustrating but everyone was excited to hear from me. The time difference has also made calling difficult. I am 16 hours ahead of the pacific coast and the best time to call is around noon when we are usually cycling.
With all the rain yesterday I wasn't surprised to see it was still raining in the morning. It was a light rain that reminded me of Portland except that it is a good 40 degrees warmer. Since it wasn't storming we decided to head out. Today's route was very scenic with lush green mountains and a few karsts jutting out. We had a young man on a broken down bike join us for many miles. His chain would fall off and then he would catch up. We pulled into a food stall for tea and he sat with us trying to speak English. A couple eating at another table picked up the tab. We continued riding and when the young man had to turn off he stopped us to shake our hand. So cute!
We had a number of people pull over in cars to talk and take pictures. These are always interesting encounters. A man pulled over with his sons leaping out of the car to give us fruit. He wanted to give us Durian but we refused knowing how overpoweringly stinky it is. But he also gave us a new fruit - mangosteen and it was sweet, juicy and delicious. I'll be looking out for more of those. We also have a lot of converations when we are sitting next to cars waiting for stop lights to turn green.
It continued to rain all morning but in the afternoon the skies cleared. It didn't take long to dry out and then I was sweating. Rain or shine I'm always wet in Malaysia. There were gentle hills the whole way into Ipoh. We stopped in every town. It's amazing how all the towns continue to have such a strong Chinese influence. There is lots of Chinese writing on the buildings. We seem to alternate our stops between Chinese and Malay food stalls. The Malay restaurants are easier to order in. The Chinese places don't usually have a menu and if they do we can't read it. Often we point at the vegetables on other tables. The Malay stalls have menus and we have been practiced the language enough to know how to order our favorites. Kathryn is really good about writing down words we don't know to look up later.
After 41 miles on up Route 1 we arrived in Ipoh. This is a good sized town with lots of hotel choices. We, once again, got the last room with 2 twin beds at a hotel. The Ipoh Boutique Hotel is really nice and had a promotional rate of $32. The staff worked very hard to find a secure place for the trikes. It wasn't easy but they managed to get them both into a storage room. We booked in for 2 nights.
Ipoh is the gateway to the Cameron Highlands. With all the rain we are thinking of taking a bus up into the mountains to check out the area. We'll talk to the hotel staff about leaving our trikes and gear we wouldn't need to take.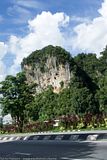 One of many lakes on the route.
Ipoh Boutique Hotel staff helping us store the trikes.