<LINK REL="SHORTCUT ICON" HREF="http://www.sylviahalpern.com/public_html/favicon.ico">
Even though I received the disappointing news that I couldn't take a ferry into China after 10 am, I knew I had to get on my trike and leave. If I stayed another day I would only be moping around being bummed out. Chiang Khong is about 35 miles and that seemed a reasonable distance to go even though I was starting close to noon
The road to Chiang Khong was pot-holed and in terrible shape. It was the worst road I've been on in Thailand. The first 16 miles were mildly up hill and the last 16 were killers. This road had the steepest hills I've ridden in long, long time. They were so steep the trucks had trouble. I was crawling along and it was really, really hot. I was passed by caravans of very fancy cars with Chinese plates all day. The cars used their emergency flashers and had numbers and the name of the tour guide company they were with. I hadn't realized what a big deal Chinese New Year is until this trip. This holiday is a month long and for many Chinese it is the only time off they get for the year. In China, it is one the world's great migrations as everyone goes home to visit their families. Half of Beijing's 22 million people leave the city during this time. Crazy! It seems that the road trip has caught the imagination of the Chinese affluent as well.
I got to Chiang Khong around 4 pm and started looking around. Do I stay here or get on the ferry to Laos? Staying in Chiang Khong wasn't really going to help me but it was late enough that I was ready to call it a day. As I was riding I accidentally found the ferry and decided to get on. That is until I was told to get on a long tail because a group of 40 Chinese cars in a caravan wanted to be on one ferry together. It wasn't easy to maneuver my way along the sandy river's edge. Finally, someone helped me and for $3 I got a boat for the short ride to Laos. Immigration looked like total chaos but, somehow, I managed to get through in less than an hour. The visa fee was the same as it was 3 years ago, $35 - for Americans. Canadians still have to pay $42.
The road away from the ferry and immigration is super steep, I was in the wrong gear having come down to the river on the other side. A Chinese couple helped push me far enough that I could downshift. I didn't even ask them.
I hadn't expected to be in Laos in this trip but here I was. Once I got on the main road, finding a hotel was easy. Huay Xai is a transit town. People only come here to go somewhere else. It was already so late all I wanted to do was get a shower, a meal and go to sleep. I got checked into a simple guesthouse for $5 that fulfilled all my requirements. That was some hard riding today and I was exhausted. How I get to China will have to wait until the morning.
Chiang Saen to Huay Xai, Laos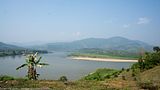 Water buffalo in a field.
Relief at seeing the downward sign.
Outside a Wat on the way to Chiang Khong.