<LINK REL="SHORTCUT ICON" HREF="http://www.sylviahalpern.com/public_html/favicon.ico">
The people at Baan Khun Yom hotel really took nice care of me. The day before I left I gave them a small bag of laundry. They presented me with a price list for cleaning each item. This bill would be twice what I've normally paid but I didn't want to deal with finding a laundry since I already had a number of things to take care of before I leave the city. Well, when my laundry was delivered to my door the bill was less than I usually pay. Actually, it cost just over $1 to get everything cleaned. Very nice!
I got packed up and headed out at a reasonable hour. It has been getting hot in the afternoons here as the dry season is coming to an end. Half of today's route was retracing many of the rides I had done with Jim. Today I turned off on to a new road at about the halfway point. There were lots of rice fields and the road was flat the whole way. I stopped for lunch at a roadside shack for a delicious bowl of noodles. With tea the bill came to $1. Got to love that! Everyone loves the trike and I always get a good reception even though I can't speak Thai.
My real reason for coming the Chiang Saen was to get a ferry into China. I had read a few accounts where cyclists got there information and tickets from a particular guesthouse. Gin's was listed as an option on my GPS and found it easily. Turns out they have a new resort overlooking the Mekong river which is nice and more pricey. I took a bungalow at the guesthouse for $15 and asked about the ferry. The manager, Julie, said there are 2 options. A passenger ferry and a cargo boat. The cargo boat has 2 cabins they sell tickets for. It is cheaper, takes longer but is more interesting. The passenger ferry costs about $120 for a 9 hour ride. She said the trike would be extra but couldn't say how much. I asked her to see when the earliest ferry was leaving.
Well, I was at the guesthouse for 2 nights and the ferry story changed every few hours. At first, I had my choice of the passenger ferry and the cargo boat. That was exciting. Then it turned out the passenger ferry that was on it's way was chartered. Then there might be a cargo boat leaving on Sat. I was starting to think this ferry idea wasn't going to happen.
During the day I rode around the area exploring. I went up to the Golden Triangle which is an area and an actual town. There are 2 opium museums that sounded worth checking out. The museum had typical displays with shelves of artifacts and home drawn maps and illustrations. It was interesting and a bit hokey. The Hall of Opium was newer, well financed and very impressive. The building is huge and the grounds are lovely. The exhibit felt more European and was very creative. The entry is a long, dark, curved hallway that sets the mood with the walls covered in anguished spirits in relief. Each room had a varied presentation that held my attention and imagination. I walked away from the museum with a good understanding of the opium wars and the role of all the players.
Since Friday was my birthday I decided to move over to the resort and live it up a bit. My bungalow was beautiful and overlooked the Mekong river and a cheerful sunflower field. It cost me $45. I know, big spender! I went for a 2 hour massage as a birthday present. The massage lady wrote me a nice card and gave me a macrame bracelet. Very sweet.
On Saturday, Julie told me that the ferries aren't running because of Chinese New Year and the earliest I could get a boat would be the 22nd. I really didn't want to hang out for another week and, besides, my visa expires on the 18th. With this information I tuned to plan B. I will ride to the next town south, Chiang Khong, and take a long tail boat across the Mekong into Laos. From Huay Xai I can get a bus into China. Not as glamorous an entrance into China but I will get there - eventually.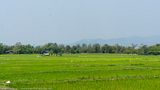 I love the color of the rice fields.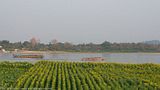 Birthday bungalow at Mekong View Resort.
Sunflowers on the Mekong.