<LINK REL="SHORTCUT ICON" HREF="http://www.sylviahalpern.com/public_html/favicon.ico">
It is such a treat to travel to a city where I can hang out with someone who lives there. This time it was Jim from the message board on BROL. I hadn't met him before but he was very generous with his time showing me all over Chiang Rai. What was really cool is he rides trikes and we went on many, many rides together. He is a very strong rider and I especially appreciated his patience. Some of the rides we did were quite challenging for me. It was good for me to know I can put in big mile days. Jim always had me ride in front and told me to ride my ride and not worry about speed. I never felt pressured but I did many rides at personal best speeds.
Jim also helped get the fenders on my trike attached in a more permanent fashion. My Scorpion has a quirky design that requires removing the wheels to tightened the fenders. He changed out the screws for bolts and now I don't have to remove the wheels to tighten the fenders. Yahhh! He also added some loctite for good measure. Examining my brakes, he wasn't happy with how close the pads were to the rotors and made the necessary adjustments there as well. He also gave me a tool for adjusting the brakes. I learned a lot of maintenance as well as cycling tips from Jim.
We took some great rides to the surrounding countryside almost everyday. One ride was to some large and beautiful gardens that are close to the Kings mom's country house. Since my visa for Thailand was running out we did a ride to Myanmar so I could get an extra 14 days. Jim stayed with the trikes while I spent an hour walking around Taicheleuk. This ride was 80 miles and I had an average speed of 13 mph. I had never done either the speed or distance before! A couple days later we took a ride to a monastery and school that has the largest buddha in the world - of it's kind. The Buddha also had an enormous beehive on it. It was a gorgeous day and we also rode passed the Thai Princesses impressive country home. A few days later we did another challenging ride to a waterfall. Jim did it on a trike where the smallest gear is 34 inches. Much of the 6 mile climb was at 8% grade so he had his work cut out for him. Then we had to hike a couple of miles to the waterfall. This was a tough hike for me. I don't hike very often and I always forget that using a stick or pole can really make the experience less stressful. On this hike Jim found me a big stick for the hike down. I was cursing pretty loudly on the way up but by the time I got back to the parking lot I was feeling a whole lot better about hiking. If we weren't going on big rides we were exploring important sites in town. We also did another ride out to the White Temple so I could get pictures of it in blue skies. I've never done so much riding while staying in a town and it was really good for me to be pushed.
I am really taken with Chiang Rai. I stayed in a nice hotel (Baan Khun Yom) that was very reasonably priced ($15/night) with a cheerful staff who took good care of me. It was also Chinese New Year and I enjoyed all the festivities as everyone welcomed the year of the snake. Of all the cities I've visited in Thailand, this was the first where I could actually see spending more time. The city isn't as big as Chiang Mai making it much easier to get around. The weather is more moderate and isn't as oppressive as the heat and humidity of the south. It also feels like a real city that isn't overrun with tourists.
Since I had gotten a new visa I wasn't in such a hurry to get going but after 2 weeks I decided it was time. My plan is to ride to the Mekong river and see about getting a ferry or cargo boat to Jinghong in China. So far, all I've heard is negative stuff about this ferry. A year ago some Burmese soldiers fired a few shots at it. Then a couple of Chinese nationals were found dead after overdosing on drugs and China shut it down until recently. Lately, I've heard that the Mekong river isn't high enough for the ferry to run. Now it isn't running because of Chinese New Year. We'll see if the ferry idea will happen. I can always cross over to Laos and take a bus. One way or another I'll be making my way to China - in a few days time.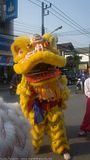 Another visit to the White Temple
Lovely scenery on the rides around Chiang Rai with Jim.
Student monks at the monastery.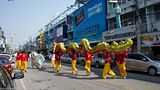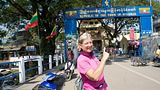 A challenging hike to the waterfall after a challenging ride up the hill.