<LINK REL="SHORTCUT ICON" HREF="http://www.sylviahalpern.com/public_html/favicon.ico">
Getting into Chiang Mai from the bus terminal is easy. I followed Hwy 1006 across the Ping River and started looking for accommodation. Chiang Mai is the first town in Thailand I've been to that is busy with tourists. Many hotels were full and I checked 6 places before finding a vacancy. After a while I got tired of looking and ended up taking a very basic room in the back of an antiques store. The Tapae Inn was well used but clean and had everything I needed. The price was only $9 a night which was also appealing. The owners were very nice letting me keep Myrtle in the store.
I had some terrific recommendations for restaurants from fb friends and went for breakfast the next morning at the Blue Diamond cafe. Here I ran into Constance from Berlin. I had originally met her in Sukhothai at the historic park with some other friends. This was a very nice surprise and we palled around the city for a couple of days. I also discovered the Chiang Mai Cycling Club which is super fun. They are a very active group that does rides all week many starting at the Tapae Gate. I met up with them for their Sunday morning ride. I'm guessing 60 riders showed up for the 7 am casual city ride. There is also another 7 am competitive group. Every week is different and this week we had a tour guide with a microphone and big speaker on his bike. He took us to many temples giving the history. The tour was in Thai and not very helpful for me but it seemed that most cyclists took it quite seriously. We also went to the closed down historic women's prison. Many people commented that they have been wanting to see this for 10 years and how lucky I was that the prison was opened to us today. There was a nice spread of food waiting for us as well. Apparently, there is talk of tearing down these structures and turning the space into a park. I don't know that a shuttered prison is so interesting and think the area would benefit from a nice park. We stopped about every 5 blocks to get a tour of another temple which were all very different. Chiang Mai is lousy with temples! I think there are more temples within the old city walls than any other place in Thailand. I'm not sure we even covered 10 miles and the ride ended at the president of the cycling clubs' house with a huge buffet, karaoke and dancing. Very fun group and I had a wonderful time.
On the ride, I met a young Swiss gal who is staying in Chiang Mai for a month. I had heard about an umbrella festival and the two of us headed to Bo Sang after lunch. It was an easy, very flat 12 miles to this colorful town. There were many performance stages with traditional music and we watched demonstrations of umbrella making. As we arrived I was handed a bright blue umbrella. Very nice! It was the last day and we enjoyed all the festivities.
After 2 nights in my very basic lodging I upgraded to a sweet guesthouse inside the old city walls for $15/night. There are loads of guesthouses everywhere and I enjoyed seeing another part of the city. Chiang Mai is wonderful for cycling and I saw more cyclists here than in any other place in Thailand. There are challenging rides in the surrounding mountains but the city is flat. Biking really is the best way to get around.
One thing I needed to take care of in Chiang Mai was getting a visa for China. The requirements for submitting the application are unusual and I was sent away the first time I tried. You need a photo, printed copy of a hotel booking for the first 2 nights in China and a typed list of all the cities you plan to visit. I thought I could write down my itinerary but no. I had to find an internet cafe with a printer and returned to the consulate the next day to try again. I only listed 8 of the biggiest cities which was fine. I applied for a 90 day single entry visa which costs $140 - for Americans. 6 month and 1 year multiple entry visas are available for the same cost but you can only be in the country for 60 days at a time. It takes 4 days for processing unless you want to pay extra for 2 day or even more for overnight. Pphhheeww!
I have some sweet friends that live outside Chiang Mai in Doi Saket and after 5 nights in the city I rode out to see them. It was a very flat 14 miles. I met this couple, Sandra and Yogurt ( his name is really Juergen but Yogurt is easier for Thais), in Khao Lak and again at their home in Krabi the last time I was in Thailand. They have now moved to Doi Saket and it was terrific to see them again. I have been looking forward to this since I started my trip. They have a beautiful home and really took care of me. Doi Saket is also wonderful for cycling and we did many rides to explore the area. On one ride we went with a neighbor, Reinhard, to some hot springs in the mountains where we boiled eggs in the boiling sulphur springs. Reinhard is also an expert mechanic who had a bike shop in Germany for 20 years. He knew the Scorpion and gave Myrtle a thorough overhaul. When he switched out the spare tire for the one in the rear he discovered a broken spoke. I'd been unable to identify a noise for a couple of months which went away when he removed the broken spoke. Imagine that! Somehow, Reinhard and Yogurt, managed to get a custom spoke cut at a bike shop in town. It seemed like a miracle when the new spoke fit. They also had a few spares cut for me to put in my repair kit. Reinhard also replaced a brake and gear cable with housing and made all necessary adjustments. I can't believe how lucky I am that Reinhard could work with Myrtle and she was purring by the time he finished.
Sandra and Yogurt took me out to fabulous restaurants and introduced me to many of their friends. One couple, Bernard and Tu, invited us out to celebrate Bernard's birthday. This was a terrific restaurant on the Ping River and would be one of the best meals I've had in Thailand.
I had such a nice time with Sandra and Yogurt. It was wonderful to see them again. Staying with friends makes such a difference when traveling especially on a trip like this. I felt like I was really on vacation. The day to day worries about how to take care of everything is lifted and I was able to relax. After a week it was sadly time to move on. They helped me get a bus to Phayao. Phayao is about 120 miles north of Chiang Mai high in the mountains. Unfortunately, there just isn't a place to stay within a comfortable cycling distance. Since Yogurt has a truck this was an easy proposition. They got me on a bus with only minutes to spare - good job! Thanks for a fantastic vist Sandra and Yogurt! I miss you already!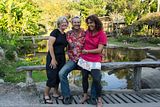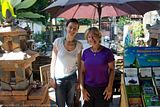 With Reinhard's wife Biggi and Sandra at a unique temple.
With Constance from Berlin.
With Reinhard working on Myrtle.
With Mungo, the sweet Persian kitten.
With Sandra and Reinhard on our ride to the sulphur springs.
Bernard's fabulous birthday dinner.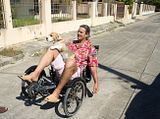 Yogurt on Myrtle with Rusty the beagle dog.
In Bo Sang at the umbrella festival.
Sandra taking Myrtle for a spin.