<LINK REL="SHORTCUT ICON" HREF="http://www.sylviahalpern.com/public_html/favicon.ico">
Knowing my visa is up on Feb. 5th and time is limited in Thailand, I was eager to put in extra miles while the terrain is flat. I'll need more time in the north for the mountains and exploring the rich history.
My room at the Lop Buri Residence Inn was very comfortable and included a hearty breakfast. I left there heading back into town and the area with all the monkeys. There are some impressive, Khmer style, ruins in the center of town also covered with monkeys. It was easy enough to find the road out of town. The roads in Thailand have been terrific. The surface is smooth and the shoulder wide enough for 2 trikes to ride side by side. I've noticed an interesting trend with regards to lane designation. The traffic flows on the left and I usually stay to the left in the shoulder lane. Unless someone rides against traffic, which happens frequently, then I'm expected to ride on the right of the lane. I've also noticed this when walking on busy sidewalks and taking the stairs - always on the right. Confusing? - Yeah!
The terrain and the road were very flat as I passed fields of bright green rice. Occasionally, there were water buffalo and people fishing. One small lake had people fishing from inner tubes using nets. Very interesting.
The big city of the day was Sing Buri on a large river. This town had fish statues along the road. I stopped for a wonderful lunch of stir fry veggies and rice. Perfect! It was starting to get quite hot. My new GPS has a temperature gauge which showed a high of 105. I don't think it got quite so hot and expect having the GPS in direct sun is influencing a higher than accurate reading.
It seemed any time I needed something it showed up quickly today. A gas station for toilet or a vender for my favorite watermelon juice. Many people pulled over asking me to stop for pictures. Some people would give me a coconut or a bottle of water and then stand next to the trike always laughing. I love how the trike makes people laugh.
Eventually, I made it the 53 miles into Chai Nat which is a good sized town. I found a motor hotel and got checked in for $13. This place was very tired but had everything I needed. There was a night market conveniently located across the street where I had dinner and picked up a small papaya for breakfast.
In the morning I got ready quickly and headed out on Route 32. This was a nice, quiet road which joined a major highway after 20 miles. I wasn't so happy to be on this busy highway but couldn't find another way. My number one priority for route decisions is where will I spend the night. I need to find a town with a hotel within 50 miles or so. I rely mostly on Googlemaps and found that Nakhom Sawan had many hotels that fit my requirements. Even though Highway 1 was very busy the shoulder was wide and I wasn't bothered. This wasn't nearly as busy as roads Kathryn and I took in Malaysia. One nice thing about busy roads is there are many options for food, drink and toilets. At one gas station I had quite a crowd. A Dr and his wife also stopped to ask about my trip. The Dr. teaches at a large university in Nakhom Sawan and suggested I stay at the campus hotel for the night. He gave me his phone number, in case I had any problems, and detailed directions to the hotel. He also said he would call ahead and let reception know I would be arriving. Very sweet and thoughtful couple!
I crossed the Chao Phraya river into Nakhom Sawan and followed the Dr's directions. I don't speak Thai and couldn't read the sign, which happens a lot. It was only a couple of kms to the University where I asked for directions and quickly found the hotel. I was in for a wonderful surprise when the receptionist told me that the Dr had also paid for the room including breakfast in the morning. Wow - that sure was unexpected. He and his wife had written a note welcoming me to Nakhom Sawan and asking me to call when I arrived. Boy was I happy I hadn't blown off this hotel recommendation!!
The hotel is part of the university's business management school where students get hands-on experience in hospitality. The room was very comfortable and the receptionist found a secure space for Myrtle. After getting cleaned up I called the Dr to thank him for his generosity. He and his wife wanted to take me out for dinner and show me the city. So nice! They took me out for a wonderful meal of local specialties. I especially liked the fish ball soup and the box of Muji cookies. We drove around 'The Dragon City' looking at some historic sites and walked at sunset along the biggest lake in Thailand, Bueng Boraphet. This was such a great treat and I wouldn't have seen any of these places otherwise. I was very touched that this open-hearted couple would take so much time for a stranger. It is these encounters that make travel so special. There is a lot to be learned from them. They talked about visiting the US this summer. I invited them to Portland so maybe I'll see them again! Really wonderful day!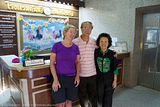 Having fish ball soup with my new friends.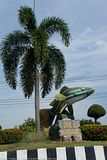 Sunset on the largest lake in Thailand in Nakhom Sawan.
Outside the Lop Buri Residence Inn.