<LINK REL="SHORTCUT ICON" HREF="http://www.sylviahalpern.com/public_html/favicon.ico">
Today we are taking a side trip up to the Cameron Highlands. We hailed a taxi to the bus station bright and early where we found a roti chanai stand for a quick breakfast. The Cameron Highlands aren't far from Ipoh but the bus takes a very winding road up the mountain. Kathryn has trouble with motion sickness and we were sure to get the front row seats on the bus. Once out of Ipoh the road went up into a lush landscape. We noticed that cycling here would have been tough. It was much farther to the first hotel than we would have been comfortable riding in a day especially on a mountain road. This made us feel better about busing it. The bus ride was 2 hours and we were dropped in downtown Tanah Rata. I was carrying a heavy bag that I wanted to ditch and we went in search of a hotel. There are lots of hotels and guesthouses especially considering the size of this small town. We ended up at a rather dumpy place that had a room up 3 flights of stairs with a bathroom down the hall for $18.00. The people that run it were nice enough and we didn't feel like spending all our time looking for a hotel and accepted.
With a lighter load we took sometime to explore this small town which didn't take long. It became apparent that Tanah Rata was really a base from which to check out attractions outside the town. We walked into a few tour company offices but didn't find anything that appealed. A guy in a run down van offered to show us around for $10 an hour but that didn't feel right either. We looked at a map and decided what we wanted to see and then approached a cab driver. Abdul accepted our offer of $6 an hour. He drove us to a strawberry farm where we enjoyed fresh strawberry and butter lettuce juices and a salad. All the strawberries and lettuce are grown hydroponically. From there we went to a tea plantation. The Cameron Highlands are well known for tea. The hillsides are covered with gorgeous tea plants. The colors are amazing. Abdul took us to the Boh plantation which is still British owed. The area got it's start when the British military were here and they wanted to come to rest in a place that was cooler. We learned all about the tea making process and took pictures of the hillsides in the pouring rain. From here we went to the Ye Old Smokehouse. This is another old English relic that is now a restaurant. We enjoyed tea, scones and Devonshire cream in a posh cottage-style setting. The rains didn't stop at all which added to the ambiance. Abdul then took us back to Tanah Rata after a very enjoyable tour.
The rain finally stopped and after sitting in the car for hours we went walking. We hiked a trail and found the Robinson waterfall. After so much rain the river and falls were raging. The next day we took a cab into Brinching for a chance to check out this even smaller town. Again, this is another town people use as a base to explore the main attractions. The Cameron Highlands felt very touristic. We didn't really find any reason to stay in this area and got a bus back to Ipoh. Going up the mountain was one thing but coming down was another. These bus drivers are always passing cars and trucks and this one did it in the pouring rain. Wow - talk about scary. Kathryn and I kept telling each other that he knows what he is doing, is a very experienced driver and everything will be ok. No one else seemed concerned. 2 hours later we were, happily, back in Ipoh.
Tomorrow we start our ride back out to the coast.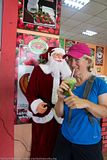 Enjoying a butter lettuce smoothy.
Pinkies up at the Smokehouse tearoom.
Our very nice taxi guide.