<LINK REL="SHORTCUT ICON" HREF="http://www.sylviahalpern.com/public_html/favicon.ico">
The room at the Wah Win Hotel in Kuala Kubu Bharu was rustic enough that I worried my imagination might take over and keep me up. I took an Ambien to make sure I could get a good nights sleep. Even though we had planned for a shorter day there wasn't any reason to stay in this hotel and we got an early start. Our plan was to get to Sungkai and, hopefully, get there early enough to beat the heat. We had some leftovers from last nights dinner and a bag of wonderful cookies we found at the market. This would hold us until lunch. We passed the town Tajong Malim and were surprised by the number of hotels. It was a good size town with a university. Everyday we plot our route using Googlemaps for information about hotels. We didn't see any hotels in this town when we looked it up. I sure hope this trend doesn't continue.
In the morning we rode with some cloud cover which kept the temperatures more manageable. Around noon the humidity rose and I was soaked with sweat. We crossed the Slim River into the town of the same name stopping at a large marketplace for lunch. We had quite a crowd as we were leaving. Everyone always wants to know 'Where you from?' and 'Where you go?'. After a few pictures we headed back out to route 1. Even though it was hillier today the hills were very gently graded. Eventually we found our way into Sungkai which Googlemaps showed as a bigger town. It was a dirty, very poor town and didn't have a hotel. I was suffering in the heat and had a mini melt down. The next town was only 7.5 miles but it might as well have been 50. I was having an issue with chafing on my leg and the skin was being rubbed raw. This has never happened before but I'm not sure I've ever sweated so much either. There was some serious weather in the distance and we put our heads down and focused on the miles to Bidor and a hotel. It was dark enough when we arrived that I had to put away my sunglasses. We had our choice of three hotels listed on Googlemaps. The first hotel didn't have a place for the trikes and we didn't even look in. The second hotel had a secure place under the stairs for the trikes but was filthy and the room only had a 2 foot square window. As we pedalled on we were worried about what the third option had in store for us. A man on a motorcycle guessed we were looking for a hotel and escorted us through the back alleys. What a welcome sight the Loong Fatt hotel was. It was big and clean and there was a back room for the trikes. We got checked in for $32. This hotel was such a nice place we decided to spend an extra day.
After our very busy time in KL and at Mama Ching's we have fallen farther and farther behind on our blogs, picture uploading and daily chores. An extra day in Bidor is exactly what we needed.
Young Chinese man folding colored paper to burn as offering to spirits.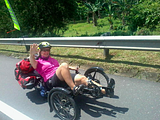 Trikes are secure in a back room of the Loong Fatt Hotel.