<LINK REL="SHORTCUT ICON" HREF="http://www.sylviahalpern.com/public_html/favicon.ico">
As my wonderful new friends from Nakhom Sawan dropped me at the hotel last night they made arrangements to return in the morning to take me out for breakfast. This level of hospitality is really above and beyond and you'd think this sweet couple would be sick of me by now. The Dr had an early class to teach and we met up in the hotel lobby at 7 am. This meant I could also get a reasonable start cycling. This couple has so much energy. They spend their time living between Bangkok and Nakhom Sawan. This morning they took me to special place for chicken rice below a temple high up on a hill. It was very good. Then we went to the 'Origin' of the Chao Phraya river where 2 rivers become one. This spot is beautiful and very important to the town otherwise known as 'The Dragon City'. 14 months ago there was terrible flooding all through Thailand and this area was heavily affected. A new 2 km flood wall is being built to protect the city in the future. When we returned to the hotel we sat with the President of the University who was having breakfast in the hotel restaurant. We all had a very nice time chatting about the school, travel and retirement.
The President was very interested in my route for the day. I took out my Google tablet and I showed him that I couldn't take a more direct route to the north because there aren't any hotels showing up. He explained that the more direct, major highway is new and hotels haven't been built yet. He and the Dr. showed me how to get on the old highway where I would not only find hotels but would travel through small villages getting a better taste of the area. Wonderful information. Pretty soon we all said goodbye. The Dr's wife gave me a walking tour of the campus and escorted me to the exit waving me off. My time here in Nakhom Sawan has been very memorable. I let this special couple know that I will always remember their kindness.
First, I recrossed the Chao Phraya river and took the old highway passed Bueng Boraphet, the largest lake in Thailand. Again today, the terrain was rich in rice fields and very flat. There were many rice processing plants too. I went through many small towns and got lots of attention. Just like yesterday, many people asked me to pull over for pictures. People hop off scooters and out of cars so fast it's like they think I'll disappear if they take their time. One guy pulled over and gave me 4 bottles of water. I tried to give 2 back and he said 'It's free, take it!'. Okie Dokie! Just before coming into Bang Mun Nak I stopped when I saw a giant crocodile creature laying in the road. It was only 20 feet in front of me and was as long as my trike. I tried to get a picture but a truck drove passed and scared it back in the brush. Good thing - Wow o wow! Another mile down the road I saw a sign, pictured above, with a crocodile on it. I didn't know the area, or Thailand, had crocodiles. That was an amazing encounter!
Once I got to Bang Man Nak I looked for the 2 hotels googlemaps listed. Neither was very appealing or better than the other. Sometimes for $12 I get a really nice room and sometimes, like today, a dog of a room. It had ac and hot water but everything was super old and not especially clean. The bed was ancient and as hard as a rock. I pulled out my air mattress to make sleep easier. Sometimes when rooms are poor like this one I have the most trouble sleeping. Bang Mun Nak isn't an especially attractive town either. I went out to look for something to eat. There were a few food vendors on the street not far away. None of them could even be bothered to show me what they offered. One woman wouldn't even take her feet off a plastic tub. I kept walking and found a so-so soup place and then went to 7-11 for snacks.
In the morning I was awakened by a blaring city loudspeaker. I think someone was reading the news and giving a pep talk. This town could use a pep talk. There was the Thai national anthem and other uplifting music too. This certainly got me going and I happily pedaled away from this down-trodden town. I stopped on the outskirts for a very strong cup of coffee and some delicious fruit. There were more rice fields and very flat riding today. And there were even more people today asking me to pull over for pictures. The last time I got this much attention from motorists was in Mexico. I must have pulled over 8 times today so people could get pictures. Everyone is always very nice and excited to see the trike. I really enjoy the interactions too. As I pulled into Phichit a man on a scooter handed me a bag with chips and 2 bottles of local sport drink. We never slowed down and I yelled 'Thanks' as he disappeared down the road.
It was a hot day of riding and I was feeling very tired. It's been almost a week since I last took a rest day. I found the Oka Nakhon hotel and got checked in for $11. This is a real hotel and comfortable enough that I booked for 2 nights. Maybe an extra day here will recharge my tired old bones.
Nakhom Sawan to Bang Mun Nak to Phichit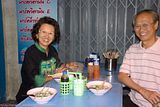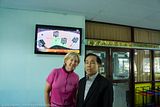 At the origin on the Chao Phraya river.
With the University President.
Light post for the 'Dragon City'.
Crocodile sign not a mile after I saw a real one.
The crocodile I saw didn't look so pious. Phichit.