<LINK REL="SHORTCUT ICON" HREF="http://www.sylviahalpern.com/public_html/favicon.ico">
I am always super nervous about flying and especially when I'm flying with my trike. I rolled Myrtle up to the counter and, as usual with international flights, I didn't have any problems. Myrtle was folded with lots of bubbewrap but wasn't in a box. They asked a few questions and then took the trike with no extra fees. My flight to Singapore took-off on time at 1 am from Los Angeles. This flight had 2 legs. The first was 14 hours to Taipei which was very turbulent. My seat was in the last row which probably made it worse. I actually got sick twice but had taken enough Ambien that I didn't care. I was able to sleep which was a relief. The lay-over in Taipei was short and after another 4 hours I was in Singapore. Myrtle arrived without a scratch and I took a van to my hotel in Little India. The heat and humidity hit forcefully as I walked outside. Kathryn was waiting excitedly at the entrance. It was good to see her and arrive. We got all my stuff situated and then I crashed. From 6 pm until 4 am. Kathryn was awake too and we headed out walking all around the area eventually finding something to eat. Even at this hour it was warm.
The next few days were spent exploring. We mostly walked but did take the MRT out to Sentosa Island. Kathryn did the iFly attraction that simulates skydiving in a wind tunnel. I took video as an instructor guided her in the air. It was cool. Later that evening we went to the historic Raffles Hotel for their very famous Singapore Sling cocktails. At $30 a piece we indulged in only one drink feeling like it was just something that had to be done in Singapore. The hotel is in a lovely setting with beautiful courtyards but I don't know that I could recommend the drink.
Yesterday we took care of the trikes. Blaze, Kathryn's trike, was ready to go but Myrtle needed the bubble wrap removed. We took to the streets for a short test ride and it felt good to be riding. Another recommended not-to-be-missed attraction was the Marina Bay Sands hotel and Casino. It is actually 3 buildings with a gigantic boat on top. The hotel is very impressive architecturally with lots of ultra-exclusive shopping. This is how the .1% lives. We went to the top floor Sky Bar and took in the impressive views. It was a very hot day and we were dripping with sweat constantly looking for shade. Next to the hotel is the Gardens By the Bay and this is truly spectacular. We bought tickets for the Flower Dome and Cloud Forest. These are huge greenhouse conservatories. The Flower Dome is cool and dry while the Cloud Forest is a giant rain forest that includes the worlds largest indoor waterfall. Kathryn, unexpectedly, ran into a family she met on her flight over which was terrific fun. After, we rode through the supertree grove with it's enormous tree sculptures. So much about this city is unexpected. Even though Singapore is cutting edge modern and super clean it is also very quiet. There are lots of rules and it is probably against the law to honk a car horn. The sun had set and it was starting to get dark as we rode back to the hotel. This was a very exciting ride where we, somehow, managed to get on an expressway for a very short distance.
I have been both excited and nervous about this trip. This is my first tour traveling with someone. I'm not used to spending so much time with anyone but, so far, we seem to be a really good team. This feels amazing since we only met once, over a year ago, for a couple of hours in Portland. It seems like having a travel companion will make the trip easier and lighter emotionally.
Sunday, we are going to start our tour crossing into Malaysia. Now we just need to decide on a route.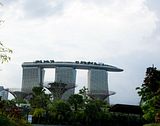 Putting Myrtle back together
Singapore Sling at Raffles
Deepavali festival in Little India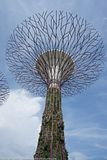 View of Gardens by the Bay from atop the boat.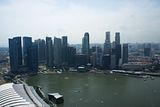 Singapore view from the boat.
View of the boat from the Flower Dome.